October 10, 2018
Super-charged growth in international visitor numbers has started to fade
Between 2014 and 2017, the rapid growth in the number of international visitors was a significant factor in the relatively rapid growth in the New Zealand economy.  However, there is now clear evidence that the rate of growth has slowed considerably, and this is likely to contribute to the expected slowing of overall economic growth in 2018.
As the graph below shows, the growth rate in visitor numbers was somewhat erratic between 2010 and the middle of 2013; and, in fact, the number of international guest nights was actually falling for much of the time.  But things picked up, starting in late 2013.  By the start of 2014, growth in both the measures was around 8 percent.  The growth rates did fall back to around 5 percent by the end of that year, but they then accelerated during the next two years to reach a peak of 11.8 percent in both measures in December 2016.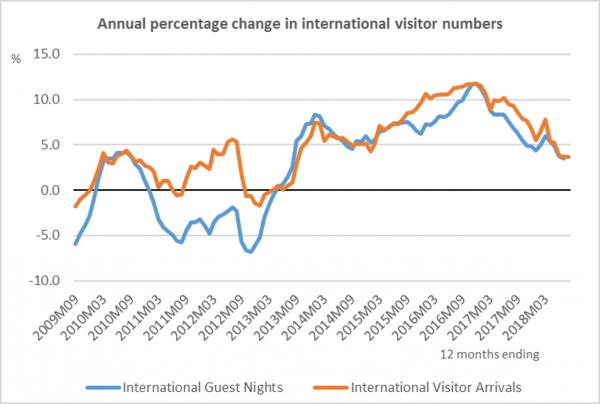 Since the peak, the two growth rates have fallen: to 3.5 percent in the case of international guest nights (year to July 2018) and to 3.6 percent in the case of international visitor arrivals (year to August 2018).  Nonetheless, the additional international arrivals associated with the 3.6 percent increase are still likely to contribute an extra $450 million, or so, in spending within New Zealand. 
Incidentally, the annual data on the number of international guest nights does not go back beyond late 2007, but the data on international visitor arrivals goes back to the early 1920s.  The average annual growth rate since then has been 8.1 percent.  Since the start of this millennium, however, the average annual growth rate has been a more moderate 5.0 percent.  The latest growth rate in international visitor numbers is, therefore, below trend.
Looking ahead, international visitor numbers are likely to depend to a considerable extent on consumer confidence in the major overseas economies.  The latest OECD data on consumer confidence shows that there has been a slight overall decrease in confidence levels during the past 6 months, but the current level is still above the long term average.  Amongst the countries that contribute the most international visitors to New Zealand, confidence in China is particularly strong, while confidence is about average in Australia, the USA, the UK, Japan and Germany.
The prospects for tourism in New Zealand are, therefore, reasonably positive.